Thursday, September 01, 2005
Katrina Blows--from the Left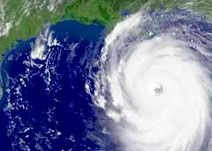 In the aftermath of what many are calling the worst hurricane America has ever suffered, there are those looking to put the blame anywhere except where it truly belongs, and there are those working to overcome the devastation by looking to the future while not blaming anyone.

The latter is the way to go, just as it was after 9/11 and many other severe disruptions that have occurred in the last two decades, including Hurricane Andrew, which was by all accounts the worst disaster to hit the nation, up until now.

Partisan democrats and their liberal base of misfits are looking to blame the president for this natural disaster, by claiming that it is part of "global warming" and that Bush didn't sign on to Kyoto to prevent things like this from happening, which is just pure partisan demagoguery at work. See: Hurricane of Misinformation

Democrats are also blaming Bush because that funds for fixing the Levee in New Orleans were cut by congress. Unfortunately for liberals, it was the democrats who led to that happening.

What the blame throwers on the left are not telling you is that the budget was just voted on this past June and hence there was not even near enough time to fix the problem before the Hurricane happened.

The U.S. Army Corps of Engineers said Thursday that a lack of funding for hurricane-protection projects around New Orleans did not contribute to the disastrous flooding that followed Hurricane Katrina. See: Corps officials: Funding levels not to blame for flooding

Congress in 1999 authorized the corps to conduct a $12 million study to determine how much it would cost to protect New Orleans from a Category 5 hurricane, but the study isn't scheduled to get under way until 2006. It was not clear why the study has taken so long to begin, though Congress has only provided in the range of $100,000 or $200,000 a year so far.

Al Naomi, senior project manager in the corps' New Orleans District, said it would cost as much as $2.5 billion to build such a system, which would likely include gates to block the Gulf of Mexico from Lake Pontchartrain and additional levees. If the project were fully funded and started immediately, Naomi said it could be completed in three to five years.

Funding for these projects has generally trended downward since at least the last years of the Clinton administration. Congressional records show that the levee work on Lake Pontchartrain received $23 million in 1998 and $16 million in 1999.

The liberal media is attempting to blame the government for not acting quickly enough to the hurricane, when in reality, they were telling people to evacuate when it became clear the storm was worsening quickly as it sat in the Gulf. Thousands of people did leave and saved themselves by heading the warnings.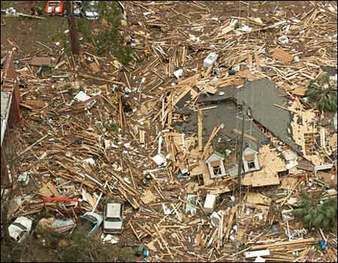 The media is harping on the government because they didn't show up immediately enough, which means the second after the hurricane hit for liberals. Relying on government to help you is the worst choice you can make. We must rely on ourselves and each other to get things done because the government is just too big to move quickly.


---
This hurricane along with the Tsunami could be a preludes for worse things to come upon America and other parts of the world. Notice what is happening in Israel is also happening here. People are being displaced from their land in both countries simultaneously. The correlation is intriging. God said that those who mess with his people will be cut to pieces.
He also says about Israel, "I will bless those who bless you and curse those who curse you." Gen. 12:3
But to all nations, he says...
"There will be signs in the sun, the moon, and the stars, and on earth nations will be in dismay, perplexed by the roaring of the sea and the waves.
People will die of fright in anticipation of what is coming upon the world, for the powers of the heavens will be shaken.
And then they will see the Son of Man coming in a cloud with power and great glory.
But when these signs begin to happen, stand erect and raise your heads because your redemption is at hand." LUKE 21:25-28
Earthquakes
are swarming near southern San Andreas fault... See link:
HERE
I'd be leaving San Fran and Vegas.
"Although the loss of lives is deeply saddening, this act of God destroyed a wicked city,"
stated Repent America director Michael Marcavage in a statement. "From 'Girls Gone Wild' to 'Southern Decadence,' New Orleans was a city that opened its doors wide open to the public celebration of sin. May it never be the same." Other cities who've done the same are in danger of getting a taste of God's holy wrath. But most will continue to deny it all even after it happens because of their selfishly lustful ambitions.
More than 18,000 National Guard troops in the United States have been dedicated to Katrina relief and security. This could be the largest military response to a natural disaster.
It makes no sense to spend billions of dollars to rebuild a city (until we know what we're dealing with) that's seven feet under sea level, House Speaker Dennis Hastert said of federal assistance for hurricane-devastated New Orleans. But that statement was reported by the liberal media who miss quoted Hastert by leaving out the words in parens.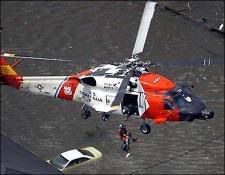 The Bush administration intends to seek more than $10 billion to cover immediate relief needs in the wake of Hurricane Katrina, congressional officials said Thursday, and lawmakers made plans to approve the request by the weekend. "It looks like a lot of that place could be bulldozed," the Illinois Republican said in an interview Wednesday with The Daily Herald of Arlington, Ill.
Fights and fires broke out, corpses lay out in the open, and rescue helicopters and law enforcement officers were shot at as flooded-out New Orleans descended into anarchy Thursday. "This is a desperate SOS," the mayor said.
According to the New York Times on THURSDAY: "There are signs of complete social breakdown, experts and locals say, a descent into a kind of predatory violence."
Islamic extremists rejoiced in America's misfortune, giving the storm a military rank and declaring in Internet chatter that "Private" Katrina had joined the global jihad, or holy war. With "God's help," they declared, oil prices would hit $100 a barrel this year.
---
In other news
and/or tribulations... The man who blew the whistle on Iran's secret nuclear program two years ago, Aliraza Jafarzedeh, is now saying that Iran's military is intimately involved in Iran's nuclear program, and that it is not for peaceful purposes, but rather for military purposes. (Great, this is
all
we need!)
Jafarzedeh, in a news conference at the National Press Club last Friday, told reporters that his reputable sources inside Iran say there are several nuclear installations that the United Nations International Atomic Energy Agency has not yet inspected. These plants, he says, are developing nuclear materials in conjunction with the Iranian military. Meantime, the Iranians are close to deploying nuclear capable cruise missiles that can reach well into the heart of Europe, nearly 2,000 miles in any direction from Iran, Jafarzedeh said.
Gary Bauer, President of American Values, said this news is disturbing because it appears the Iranians are further along in their nuclear development than most people think. See:
Iran Has Tons of Gas for Nuke Bomb
Right now as things seem to be at their worst, the best thing we can all do is pray for the needy to the Lord for the courage to weather and persevere through these trying times, asking for his divine help.
If you don't believe in praying, well good luck to ya then, because you're on your own in this wild, wilder world.
© Copyright 2005-2008 The Creative Conservative, All Rights Reserved.
|
---