Thursday, July 20, 2006
Clinton finishes off Lieberman
By Joe Lieberman running as an independent, he had a chance to distance himself from the far left lunacy of the democratic anti-war machine. However, his latest mistake was taking disgraced president Bill Clinton on the campaign trail.

"We are thrilled to have President Clinton come to the state to campaign for Senator Lieberman," said Steinfels. "It is not only a big day for our campaign, but it is a big day for Waterbury and Connecticut."

This sounds like the death nell for Lieberman as the impeached Clinton is seen as an albatross by the vast majority of voters.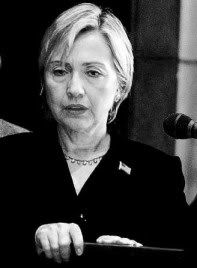 The real Hillary Clinton (right) a sure runner for 2008, has spoken of her displeasure of Lieberman's cuddling up to president Bush, not wanting senator Lieberman or anyone else being a war hawk in the party of appeasement, so she has put the hex on Joe with Bill's endorsement. Who could forget the disgusting display of Clinton's laughter during Minnesota's late Sen. Paul Wellstone's funeral/memorial/campaign rally for Walter Mondale? I know I never will!

Lieberman has no clue about his impending fatet as he relishes the attention Bill brings in from the fringes with the media.

An article at NewMax.com reminds us to recall that Lieberman "was highly critical of Clinton during the 1998 scandal that lead to Clinton's impeachment. Lieberman slammed Clinton for "having extramarital relations with an employee half his age," termed the president's actions "immoral" and denounced as "premeditated" Clinton's efforts to conceal his involvement with Lewinsky. Joe was right at the time.

This is pay back for Clinton!

© Copyright 2005-2008 The Creative Conservative, All Rights Reserved.
|
---